Plural Positivity World Conference
Inclusive, Online, Free, Recorded Sessions
For folks with accessibility issues please see the session lists here.
Direct link to conference video playlist on YouTube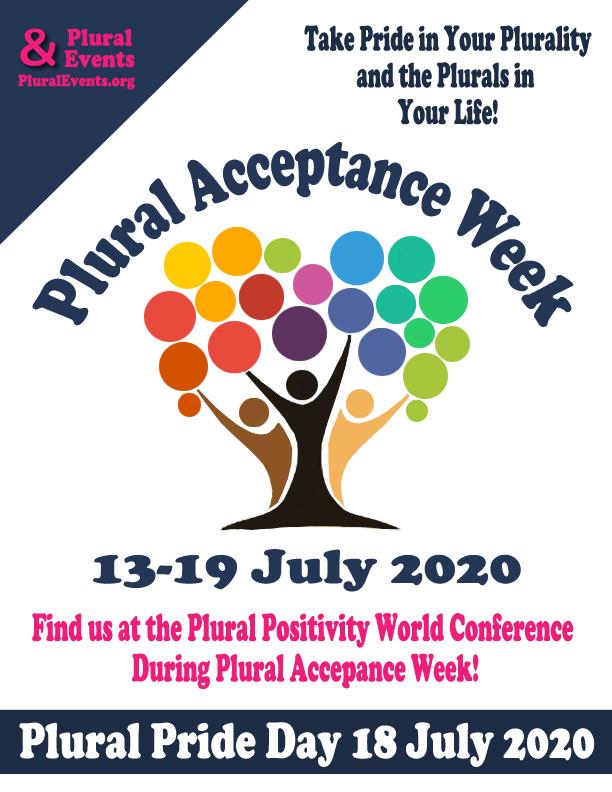 Welcome to the Plural Positivity World Conference. Please see the Conference link for information on how to participate.
Disclaimer
All presentation materials & presenter?s opinions are the respective copyright of their presenters & do not constitute legal, medical, or therapeutic advice. This conference is purely for educational value, & to share a wealth of accumulated knowledge being freely offered to the community. Conference volunteers will attempt to screen content and chats as resources and time permits. We are attempting to safely spread good information, but cannot be held responsible for presenter content, live content, live chat content, images or graphics, people?s behaviour, or how you& perceive the materials presented.
This conference cannot be responsible for your& safety. Only you& know your own plural system?s triggers and issues. Please exercise appropriate selves-care, and strategise your& recovery plan with trained and licensed professionals. If you need crisis assistance, please seek out a crisis hotline in your area.
2020 Conference Schedule
YouTube only sends out a limited number of notifications. Click on the session buttons below at the start time view videos.
ALL TIMES ARE IN EDT!! Please check your local time with a time zone converter.
Errata, Comments, Complaints, Etc.
If you see any problems with the conference program, please email the website admin and we will take your comments under advisement.
NOTE: Q&A will only be available on Airmeet. Q&A highlights may be posted later on YouTube separately due to technical issues between Airmeet & YouTube that will not be resolved in time for the conference.
Conference Schedule
Sunday, July 18, 2021
We open this years Plural Positivity World Conference with a keynote session on Plural Media with The Redwoods Circle, known from BBC Radio, youtube & more and The Stronghold System, founders of The Plural Association Nonprofit.
In this session we go over Redwoods and Stronghold their best tips and tricks for participating in the media. We share the media guide The Plural Association created and share from our own lived experiences!
How to identify what role and memory type a Headmate has by Smash System
In this session Smash System shares about types of Headmates. Based off of perception, skills, hobbies and headaches a lot can be said about a head mates' role and function within the system. By learning how to investigate a head mates' skills one can help them position themselves better within the system and aid cooperation. This can lead to a more successful and fulfilled life.
Relationships between Plural Systems by Partielles (Epsi & Kara)
In this session Epsi & Kara from Partielles, a French collaboration with The Plural Association Nonprofit, share from their lived experience as a Plural couple. They have been together happily for 7 years now and have a lot of insights to share. This video is French spoken and has English captions available.
How to create Plural Avatars in 2D and 3D by Dr. Serseción
In this session Dr. Serseción teaches us all about virtual avatars in 2D and 3D. This is a great way to express yourselves and Dr. Serseción share their best tips and tricks with you. They go over various software's both paid and free and show you step by step how to set it up!
Being Plural and Transgender by Clockworths
In this session Clockworths, a trans man in a Plural System, shares his best tips and tricks from his own lived experience. This session includes tips on how to deal with dysphoria as a System, what to do if someone in your System is transphobic and much more! With live Q&A.
As Inside, So Outside & Vice Versa: Foundational Concepts in Building Internal Community by The Crisses
To heal internal relationships & encourage healthy multiplicity let's swap isolating, retraumatizing & stigmatizing models that encourage internal chaos, distrust, and resistance within our plural system. We borrow from group facilitation, organizational theory, group dynamics, & working with dysfunctional families to create a new lens to eliminate unintentional internal bullying, coercion, mis-application of force, & internalized abuse dynamics. (Parts of the session recorded at Healing Together conference, 2019.)
In this session Stronghold interviews The Loyal Polyplex, a protogenic Gateway System of 100+ sysmembers. Is being Gateway a spiritual, neurodivergent, cultural experience or something else? Learn the answer to this and many other questions during this peer and lived experience based session.