Plural Positivity World Conference
Inclusive, Online, Free, Recorded Sessions
For folks with accessibility issues please see the session lists here.
Direct link to conference video playlist on YouTube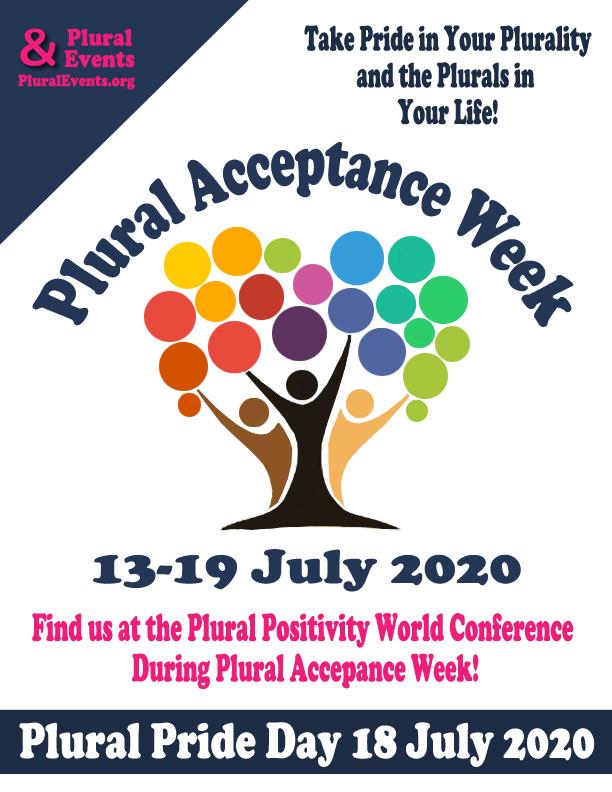 Welcome to the Plural Positivity World Conference. Most topics will be pre-recorded & (corrected) closed-captioned videos. Live sessions will be recorded (if possible) and added to the archives later with transcripts & corrected closed captions.
Disclaimer
All presentation materials & presenter's opinions are the respective copyright of their presenters & do not constitute legal, medical, or therapeutic advice. This conference is purely for educational value, & to share a wealth of accumulated knowledge being freely offered to the community. Conference volunteers will attempt to screen content and chats as resources and time permits. We are attempting to safely spread good information, but cannot be held responsible for presenter content, live content, live chat content, images or graphics, people's behaviour, or how you& perceive the materials presented.
This conference cannot be responsible for your& safety. Only you& know your own plural system's triggers and issues. Please exercise appropriate selves-care, and strategise your& recovery plan with trained and licensed professionals. If you need crisis assistance, please seek out a crisis hotline in your area.
2020 Conference Schedule
YouTube only sends out a limited number of notifications. Click on the session buttons below at the start time view videos.
ALL TIMES ARE IN EDT!! Please check your local time with a time zone converter.
Errata, Comments, Complaints, Etc.
If you see any problems with the conference program, please email the website admin and we will take your comments under advisement.
NOTE: the sessions are about 30 minutes shorter than it looks like — once the end credit plays the video is over only the live chat continues for Q&A if you want to read the chat.
Conference Schedule: Plural Acceptance Week
Monday, July 13, 2020
1:30pm - 3:30pm EDT Opening Ceremony & Keynote Address — One Video! — (PREMIER with CHAT)
Combined in one video — Replay the Session on YouTube
4:30pm - 6:00pm EDT
Tuesday, July 14, 2020
8:30am - 10:00am EDT
10:30am - 12:00pm EDT
3:30pm - 5:00pm EDT
Wednesday, July 15, 2020
10:30am - 12:00pm EDT
3:30pm - 4:30pm EDT
Thursday, July 16, 2020
8:30am - 10:00am EDT
3:00pm - 5:00pm EDT
6:30pm - 8:00pm EDT
Friday, July 17, 2020
Any Time
10:30am - 11:30am EDT
1:30pm - 3:00pm EDT
4:00pm - 5:00pm EDT
Saturday, July 18, 2020 - Plural Pride Day
10:30am - 12:00pm EDT
1:00pm - 2:30pm EDT
3:30pm - 5:00pm EDT
6:00pm EDT - Live
Sunday, July 19, 2020
10:30am - 12:30pm EDT
1:30pm - 3:00pm EDT — Closing Remarks